PayTechLaw Event Calendar
With our PayTechLaw event calendar, you will find the right event for you and stay up-to-date with all the latest happenings in the FinTech, crypto, payment, investment, tax and banking scene and save money with our PayTechLaw discount codes (only valid for certain events).
IMPACT OF THE SITUATION IN UKRAINE ON BITCOIN AND CRYPTO ASSETS (recording now available)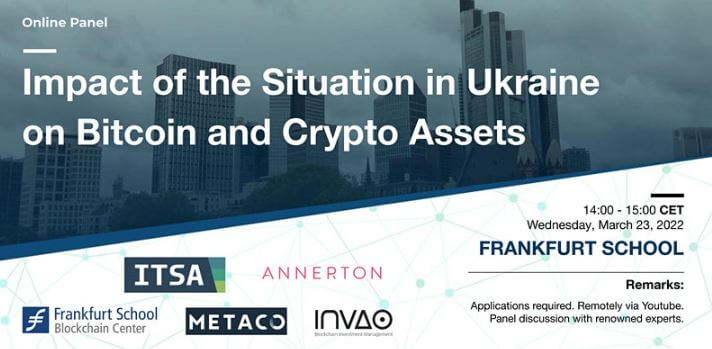 Language: English
Venue: Online
Host: Frankfurt School Blockchain Center
To the recording on YouTube: https://www.youtube.com/watch?v=Dx_97xaXX-Y
FINTECH.LI CONFERENCE 2022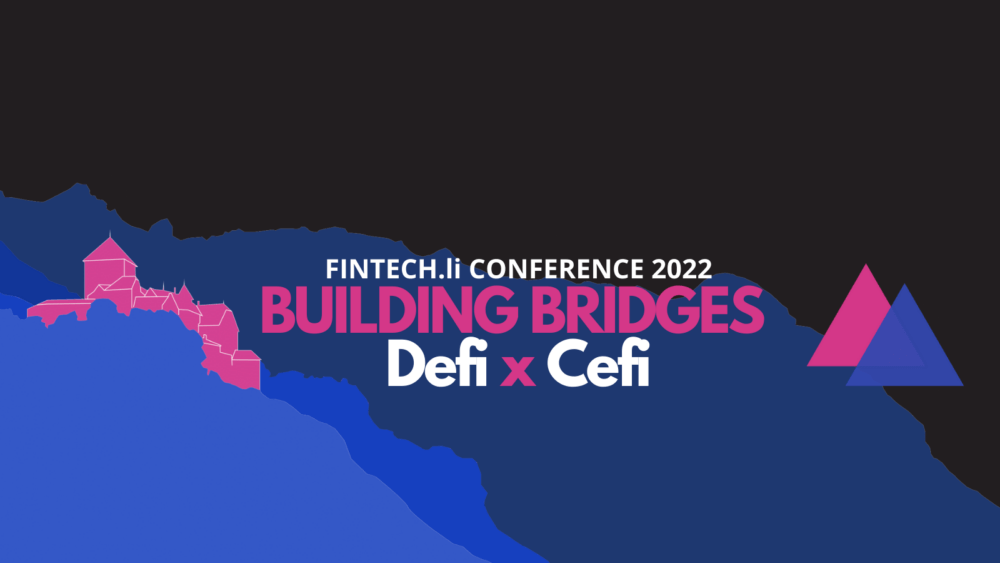 Be sure to catch the upcoming Fintech.li Conference 2022: Building Bridges. Building the Bridge from today to the future. Together we create magic in both worlds,  in the centralized & decentralized world.
One of the Crypto Valley's most influential Blockchain & FinTech events is back in Liechtenstein! Right in the heart of the mountains, the event will feature 20+ speakers who create together a strong viaduct from web2 to web3 to merge FinTech, Culture, and Sustainability. Look with us beyond the realm of reality and let us understand how decentralization could shape our society. Join 300+ attendees in a one-day event and don't miss the opportunity to connect with global leaders, new challengers, tech giants, early-stage start-ups as well as project groups so that you can profit from the knowledge, people, and future partners you need to build a new, purposeful and successful sustainable future.
Arcs to new frontiers and the understanding of how decentralization could shape our society – this is Fintech.li 2022 all about: CeFi X DeFi.
Date: September 28, 2022
Language: English
Venue: Liechtenstein
Host: Fintech (Liechtenstein) e.V.
Save 25% of the ticket price with our exclusive PayTechLaw discount code: paytechlaw25
More information about the speakers, agenda & tickets: Fintech.li
CAC SIDE EVENT – CRYPTO & COMPLIANCE by Crystal Blockchain & Blockchain Helix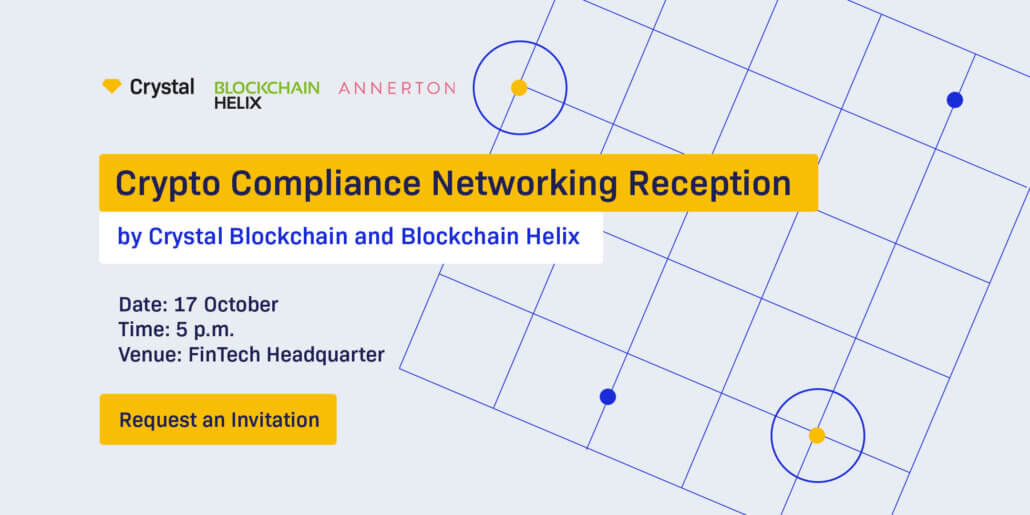 On the occasion of the Crypto Assets Conference on 18 and 19 October 2022 in Frankfurt am Main, Crystal Blockchain is hosting a networking side event together with Blockchain Helix. In addition to networking options, Marian Khaustova (CEO of Crystal Blockchain), Hedi Navazan (Head of Compliance at Crystal Blockchain), Oliver Naegele (Founder of Blockchain Helix) and Alireza Siadat (Lawyer and Partner at Annerton) will moderate a panel discussion to give you insights into the topic of "Crypto Compliance: Trends & Challenges."
Date and time:October 17, 2022, 5.00 pm
Language: English
Venue: Frankfurt am Main, FinTech Headquarter, Münchener Straße Str. 45, HH 60329
Host: Crystal Blockchain and Blockchain Helix
Request an invitation: Crypto Compliance Networking Reception Tickets, Mon, Oct 17, 2022 at 5:00 PM | Eventbrite
NEXT BLOCK EXPO BERLIN 2022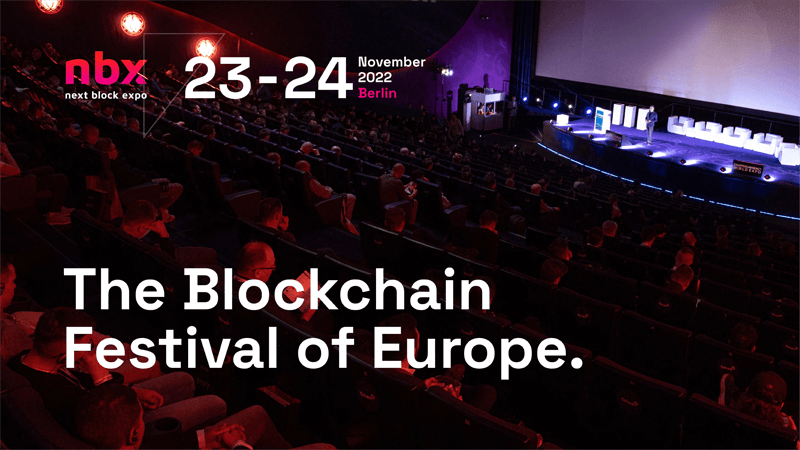 With a pitch contest and a dedicated mobile app to link people, projects and investors, Next Block Expo's ambition is to become the most promising networking opportunity for the european blockchain community in 2022.
The first edition of the Next Block Expo event with a few thousand attendees will be held at the Berlin Station venue on 23 and 24 of November, linking the most influential people and projects in the web3 space. With presentations and speeches at the main stage, roundtables, workshops and hackathon, NBX is an excellent opportunity for startups and already established blockchain companies to discuss current challenges and new opportunities.
Next Block Expo is an extension of the previous event series held under the name Cryptocurrency World Expo over the last six years. The 2022 edition will be held on a scale of a few thousand attendees, 80 speakers and more than 100 sponsors, exhibitors and partners.
Berlin Station venue, where the event will be held, will offer 6 content themes for attendees related to DeFi, blockchain gaming and GameFi, scaling and infrastructure, web3 discovery and fundraising and investing.
All Next Block Expo attendees will get access to a smart-networking app dedicated to the event where they can:
Find a list of attendees that fit their needs based on match-making algorithm
Chat & schedule 1:1 meetings with other conference participants
Find key information about the event, speakers and startups
Create own, personal agenda for the conference by picking relevant sessions
Learn about promos, special offers and side events prepared by companies attending NBX and partners.
Look forward to networking, learning, investing and lead generation at nbx Berlin 2022!
Date: November 23 – 24, 2022
Language: English
Venue: Berlin
Host: nbx
More information about the speakers, agenda & tickets: https://nextblockexpo.com/
Get 25% off with our PayTechLaw discount code: paytechlaw-nbx
Cover picture: Copyright © Adobe Stock/Markus Mainka