A referendum was held on Thursday 23 June, 2016, to decide whether the UK should leave or remain in the European Union. Leave won by 51.9% to 48.1%. For more details on Brexit see BBC's easy-to-understand guide. The UK Prime Minister Theresa May triggered the two year process of leaving the EU on 29 March 2017 (cf. May's negotiation goals in a letter to the EU council president Donald Tusk), meaning the UK is scheduled to leave on Friday 29 March 2019. The 28 EU Member States can extend this period, if all parties agree, but for the time being, it seems all sides are focusing on that date.
How Brexit could affect the UK economy
Much has been said about how Brexit could affect the UK economy, e.g. cf. The New York Times article "How 'Brexit' Could Change Business in Britain". We talked with David M. Brear about Brexit in our first episode of PayTechTalk (starting at 9:16 in the broadcast). He said that Brexit has already had an impact on the UK as the "magnet" of innovation in Europe and across the world. Many European Cities have tried to take advantage of this situation.
Advertisings and initiatives to attract UK based banks
Shortly after the Brexit-Referendum a white truck with a colourful placard reading "Dear start-ups, Keep calm and move to Berlin" spent more than 12 hours driving around the streets of London.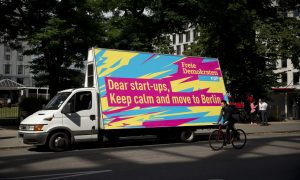 This bold ad campaign was sponsored by the German liberal Free Democratic Party (FDP) and was only one of several measures aimed at luring start-ups from London to the German capital (read more here).
The German Federal Financial Supervisory Authority (BaFin), which is not exactly known for its cosmopolitan attitude, started a number of initiatives to attract UK based banks and financial institutions. For example, the BaFin published FAQs for UK banks on the establishment of a branch or a subsidiary in Germany. At the initiative of its President, Felix Hufeld, the BaFin invited some 50 representatives from 25 foreign banks to a supervisory workshop in Frankfurt at the end of January 2017 to discuss specialist issues related to Brexit (cf the slides of the workshop here).
The BaFin has further set up a special contact address, in particular but not exclusively for UK banks and financial services companies seeking to move their registered office or operations to Germany via access@bafin.de and promised to respond to all enquiries within two business days. BaFin further published a checklist on authorisation as a credit institution as a guideline for preparing an application for the granting of a bank license (for more information on the requirements of an application for the granting of an e-money licence or payment services licence see our checklist on PayTechLaw).
Key Driver For Banks
These efforts of BaFin together with the outstanding banking and financial services infrastructure in Frankfurt might have been the key driver for banks like Morgan Stanley, Citigroup Inc., Standard Chartered Plc and Nomura Holdings Inc. to pick Frankfurt for their EU headquarters. According to Bloomberg, this makes Frankfurt the "biggest winner in the fight for thousands of London-based jobs that will be relocated to new hubs inside the European Union after Brexit" (cf. "Frankfurt Is the Big Winner in Battle for Brexit Bankers" by Gavin Finch, Hayley Warren and Tim Coulter).
Further information
For more information about the regulatory environment in Germany and the requirements of the application for the granting of banking, e-money or payment services licences, please reach out to our dedicated team of payment, banking and IT lawyers at Aderhold Munich. For the latest trends and topics in the world of payment, banking and IT check out blog and subscribe to our newsletter at PayTechLaw and subscribe to our podcast PayTechTalk on iTunes.
Titelbild / Cover picture: Copyright © fotolia